Why Ajna Living's New Collection is the MUST-BUY Patio Set of 2021
Here's how Ajna Living designed an incredibly high quality set to match high-end brands like Restoration Hardware and Pottery Barn at a fraction of the cost.
1. Hand-Woven, Full-Round Weave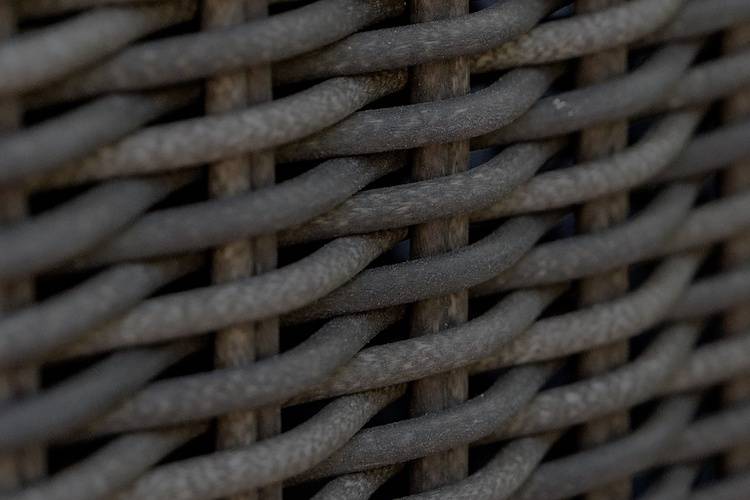 Wicker comes in three dimensions: Full-Round, Half-Round, and Flat. Flat wicker is cheaper and used in low quality sets. It's thinner, has less weight, and often runs into durability issues. It also falls visually flat as it can't create a true sense of depth and texture.
Higher quality sets use Full-Round wicker which is thicker and sturdier. We are one of the few brands that uses Full-Round wicker because it creates a luxurious sense of depth, texture, and dimension you just can't get with Flat wicker. Our experienced artisans hand-weave each set so each piece is meticulously crafted and inspected just for you.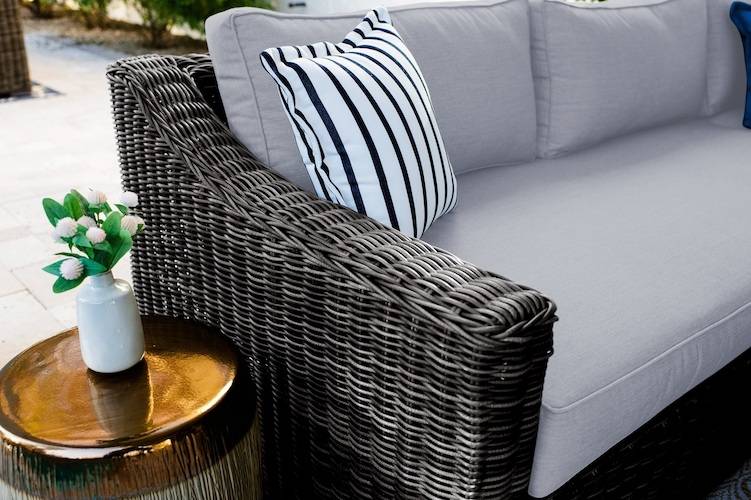 We use UV Treated High Density Polyethylene, or HDPE resin wicker. This is a specially formulated synthetic wicker that is non-porous, longer-lasting, weather-resistant, fade resistant, and more durable than cheaper wicker. Our wicker is also partially made of recycled materials to create sustainable patio furniture.
Cheap patio sets use PVC or Nylon wicker. These sets cost less, but these brittle plastics crack under the elements. (In fact, drinking straws are made out of PVC.) They're not designed to withstand all-weather conditions or repeated use.  
3. Fade and Water Resistant Fabric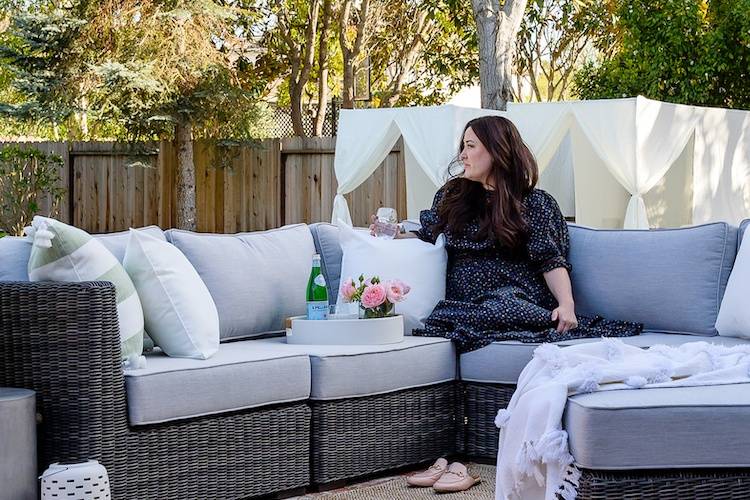 We looked across the world for the best outdoor fabric. We discovered Agora, a 100% solution-dyed acrylic outdoor fabric. Made by a 120 year old luxury European fabric manufacturer, Agora uses a unique dying process that ensures each individual strand is infused with color. This ensures your fabric will hold its color through high temperatures, UV rays, and rain. Cheaper fabric manufacturers just dye the outer layer of the material which leads to quicker fading.
Agora features a tight-weave design that defends against wear and tear, scratches from pets, animals, or children, and anything else that may cause a different brand's fabric to rip. Moisture will bead up on the surface instead of seeping through. Not only does this prevent mold and mildew, it also means stains and spills are easy to wipe away.
3. Ultra Plush High Density Foam Cushions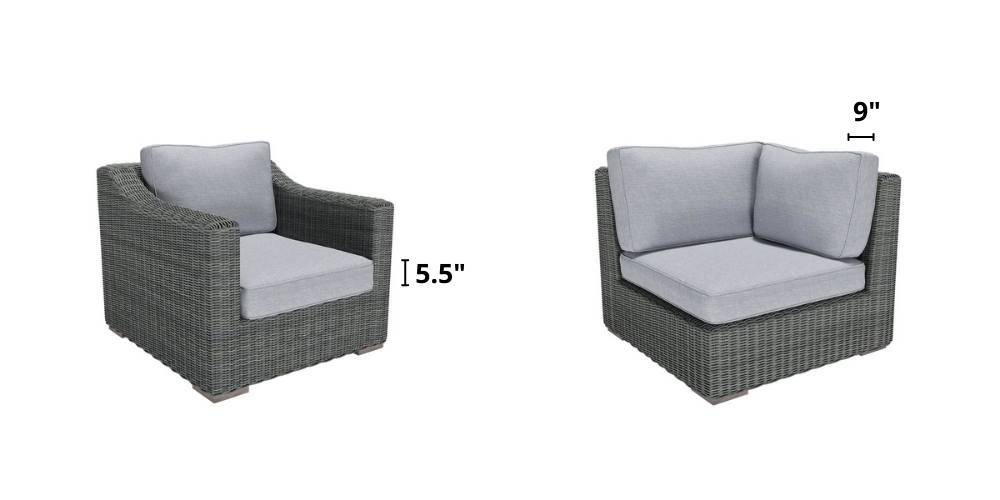 We use 5.5" ultra-thick high density foam cushions for optimal support. Our cushions are amazing to sit on and hold their shape for years to come. We also have ultra-plush 9" thick back cushions so you get that amazing sinking in yet supported feeling that is just right.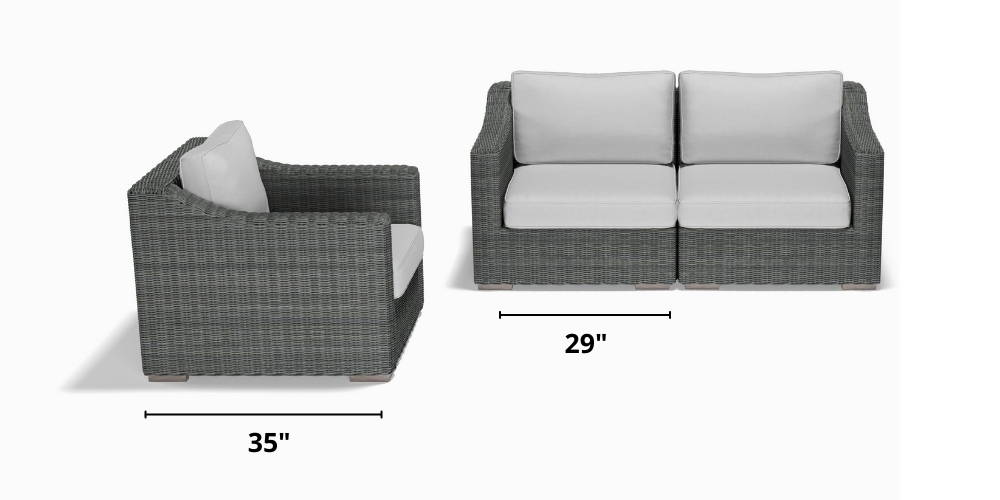 We designed our chairs with industry-leading 35" chair depth and 29" seat width. This ensures plenty of room to relax without feeling cramped. This is truly luxury patio seating. Cheap patio furniture tends to be smaller to save on material costs which results in cramped and uncomfortable seating.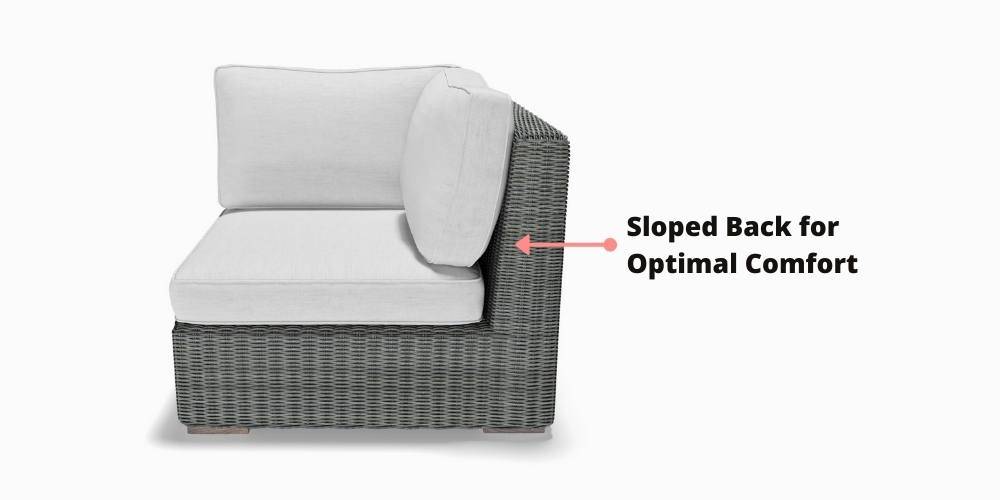 We added an incline to the back rests of each piece so that your back cushions can support you at a natural, relaxing position. This is a high quality feature that is possible thanks to our skilled weavers who create this by hand.
5. Unlimited Configurations to Fit Any Patio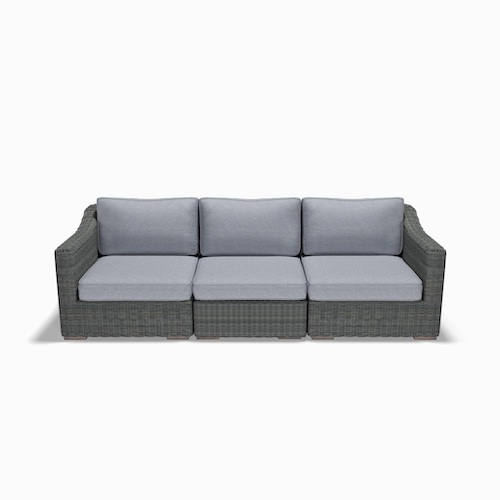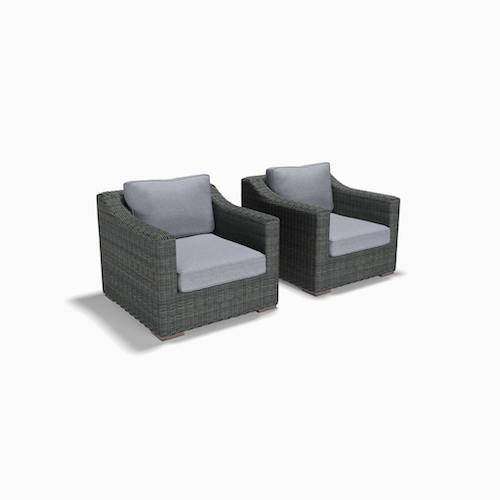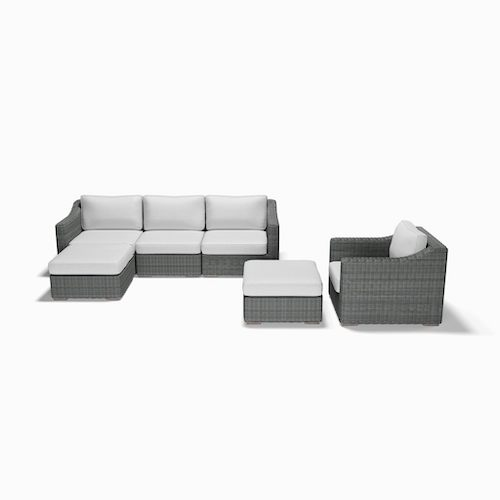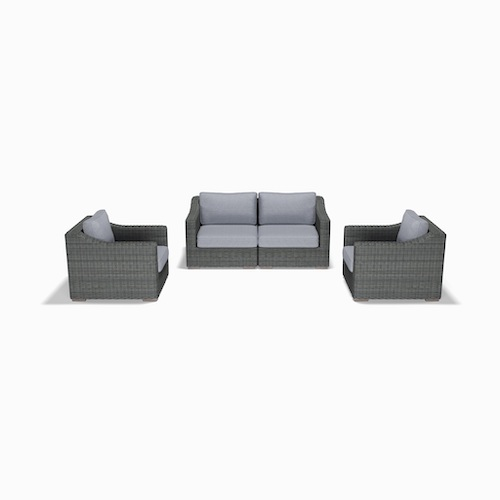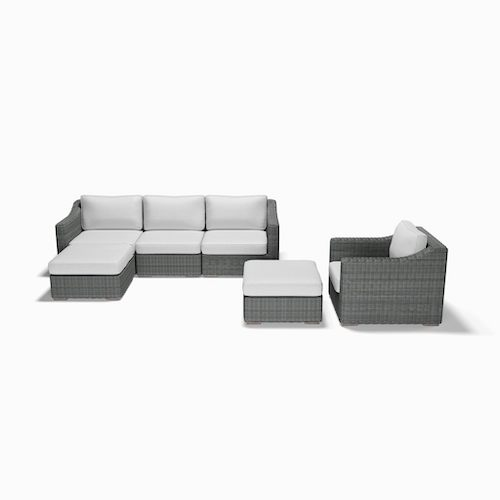 Our unique design and manufacturing process allows us to offer an almost unlimited set of choices across sofas, sectionals, sets, sloped or flat arms, and fabric color.
With more than 50 standard configurations and the ability to create your own custom configuration, if you can dream it, we have it.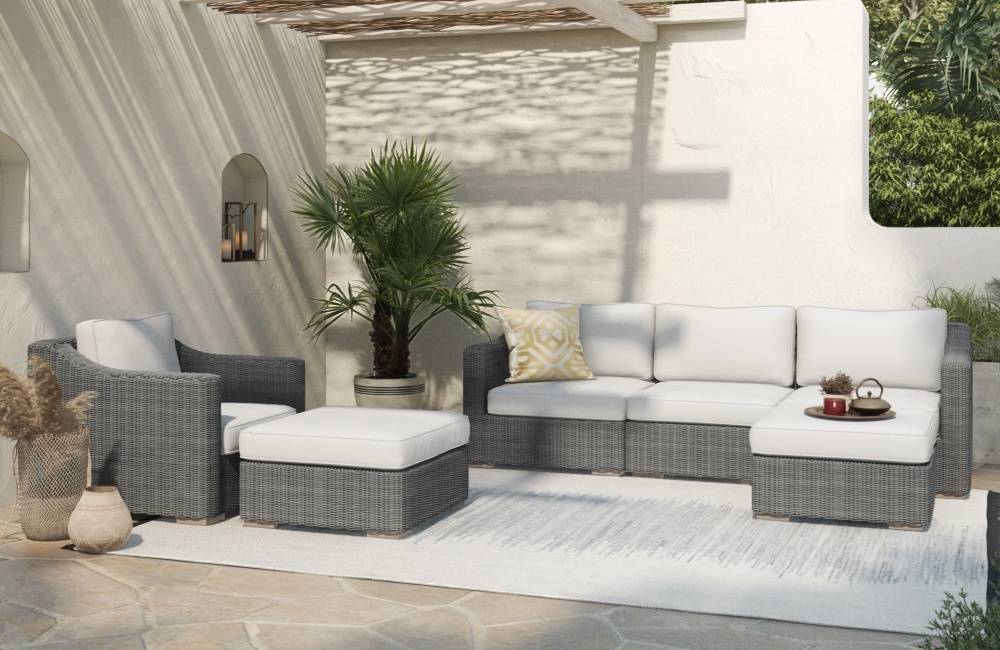 We make it easy for you by delivering sets that don't require any assembly. Instead of making each seat in parts that need assembly, resulting in lower quality and less sturdy sofas, we manufacture and ship each piece fully assembled. Your set will come in just a few boxes. All you need to do is open the box, arrange each seat frame, and layer on the cushions. We even have clips to keep the seats in place.
7. Factory Direct Pricing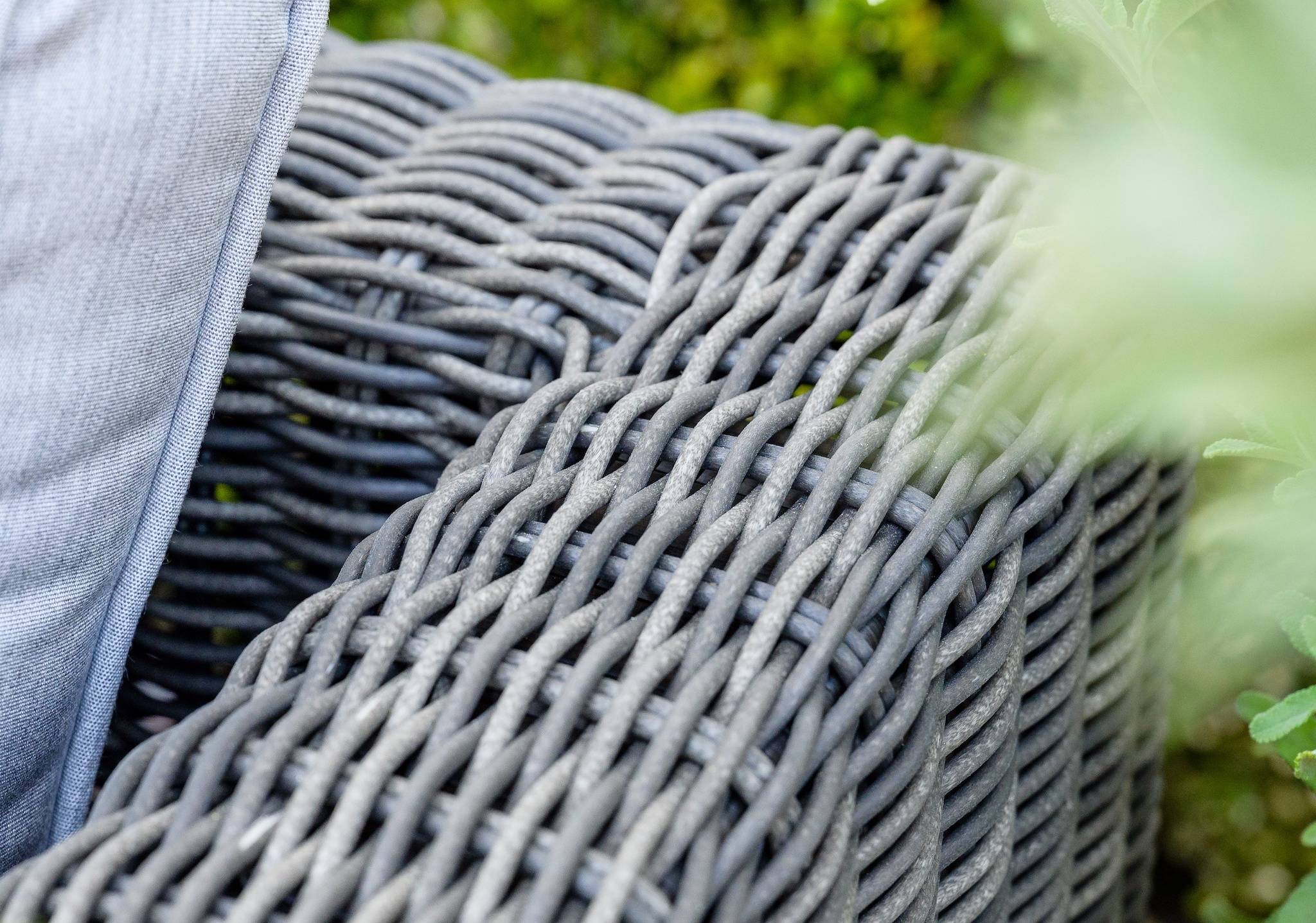 You get what you pay for. If you buy a cheap patio set, it's not going to have the quality you're looking for. Don't be surprised if it lasts for less than a year.
However, that doesn't mean you should be forced to spend over $10,000 on an overpriced patio set. Big retailers often have expensive retail and warehouse space they need to pay for, so they pass that cost on to you.
We work directly with our factory to deliver you an unbelievably high quality set that can't be matched at our price points. Show us something cheaper and we'll tell you why it's not as good!
8. Amazing Customer Service
We're a small business and have dedicated customer support teams to help you browse and pick the perfect set for you. Just send us a live chat or email at support@ajnaliving.com. You'll be connected with a knowledgeable US-based team member!

"Beautiful furniture with quality comparable to Pottery Barn or Restoration Hardware, at significantly lower price. Love the fabric and the wicker is beautiful."

"I went to five outdoor furniture places and all of the comparable sets were so expensive. I happened upon Ajna online. Their set is half the price. And it is all waterproof - great quality. Our set from Ajna arrived so quickly and is more beautiful than anything in the stores."

"We looked all over online and in patio furniture stores. Most other options were either super overpriced or incredibly overpriced, and not even comfortable!!!"

"Perfect in every way. I've previously purchased outdoor furniture from Restoration Hardware. My Ajna furniture is impressive - the construction, quality, fit/finish are all first rate. Cushions are thick, comfortable and the fabric and fabrication is beautifully executed. Couldn't be more pleased. And, of course, your outstanding customer service."

"Highly recommend for anyone thinking about buying a set set from Ajna. We just got ours, and could not be happier, the quality of the wicker and cushions is excellent. The cushions are nice and thick! Customer service is awesome, delivered quickly and such better prices than what we have seen in retail stores. You won't be disappointed!"
10. In-Stock and Ready to Ship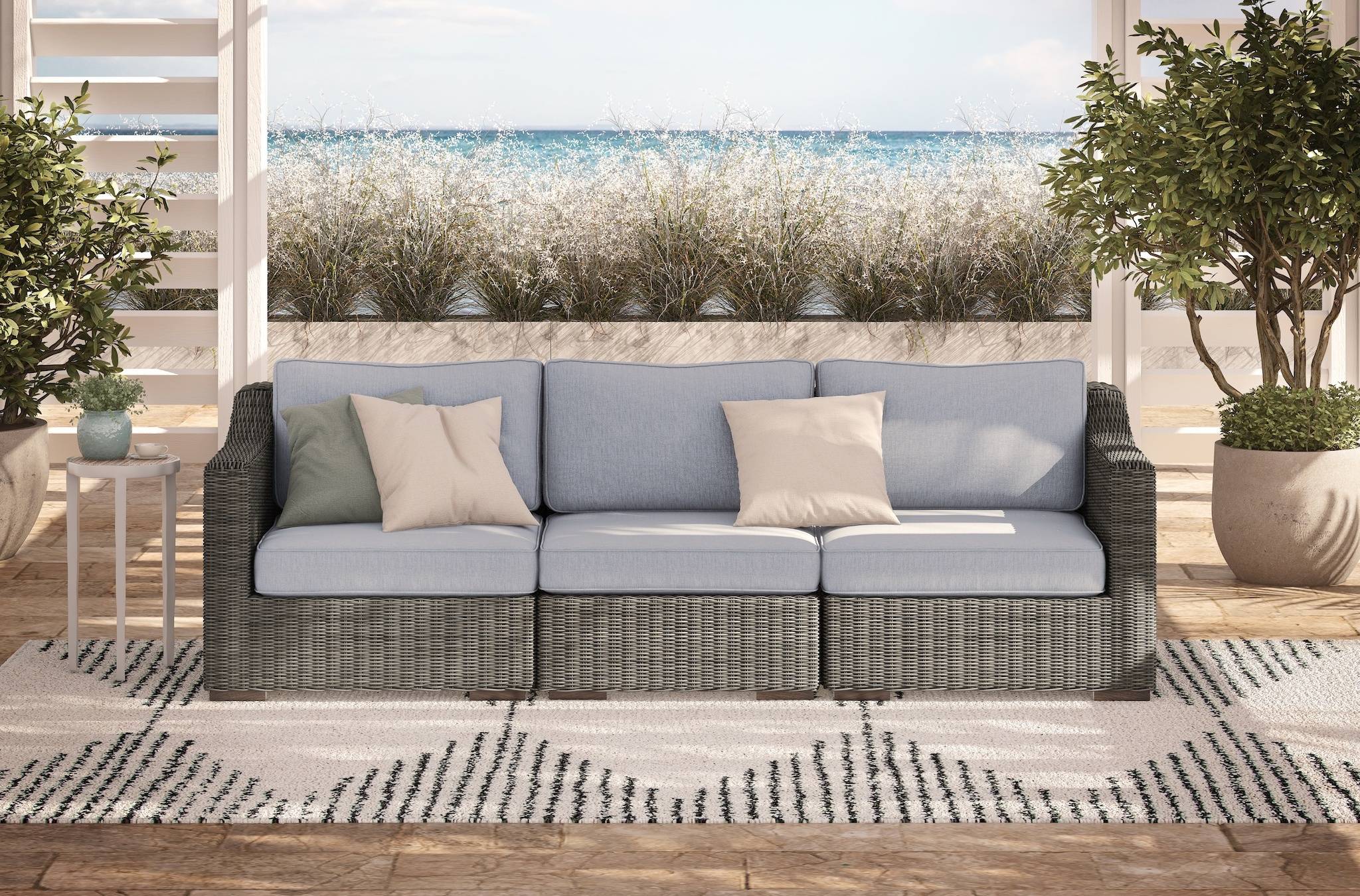 The best part is, unlike the other brands that make you wait months to get your set, many of our sets are in-stock and ready to ship. Your order will leave our warehouse in just a few days and you'll be enjoying your brand new patio set in no time with our fast shipping which is free for orders over $2,500!
Our patio sets are so popular that our team is having trouble keeping up. Order soon to ensure you get your set this season!