The #1 Guide to High Quality Teak Patio Furniture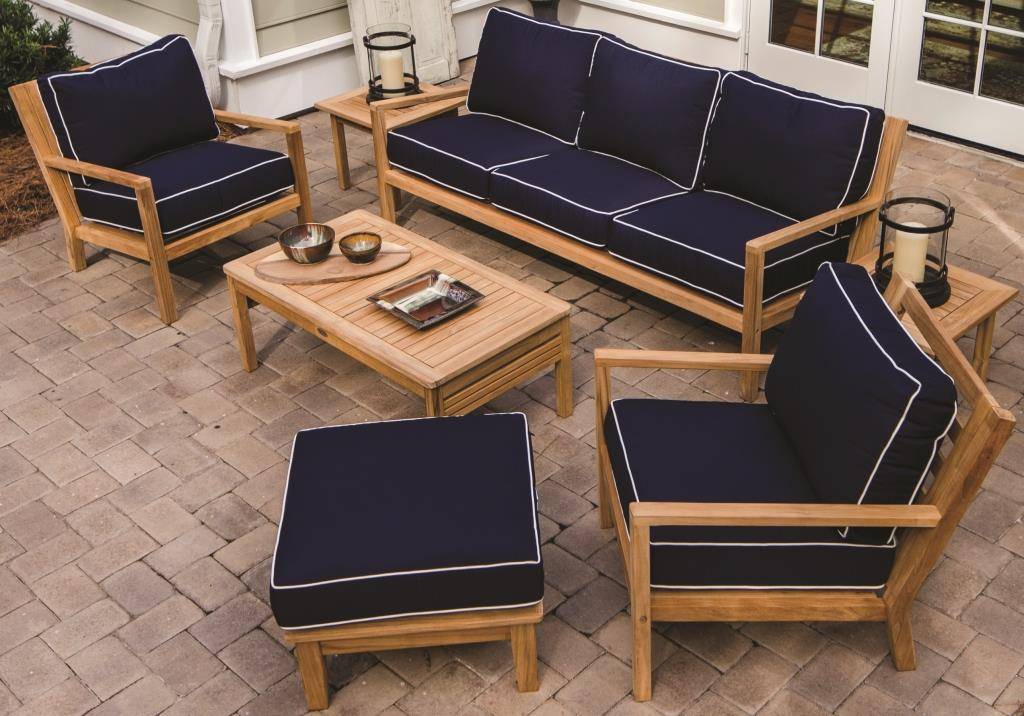 What to look for when shopping for teak patio furniture
It can be a challenge to find a high quality yet reasonably priced patio furniture set. We break down everything you need to know about teak patio furniture so you can make a smart choice at a smart price.

Teak comes in 3 grades: A, B, and C. Grade-A teak is the rarest and highest quality teak. Grades B and C are more common and found in lower quality, cheaper patio sets. Here's why you want to look for higher grade teak.
Grade A teak is taken from the very center of a teak log ("Heartwood") from mature trees. B and C grade teak is taken from further out of the log and are less mature. Only about 30% of teak is considered Grade-A which makes it highly sought after.
Because Grade-A teak comes from the very center of decades-old trees, it has had the most time to be infused with the high levels of natural oils and rubbers that give teak its resistance to the elements. Lower grade teak hasn't had the time to develop and absorb the natural oils and are softer and less durable.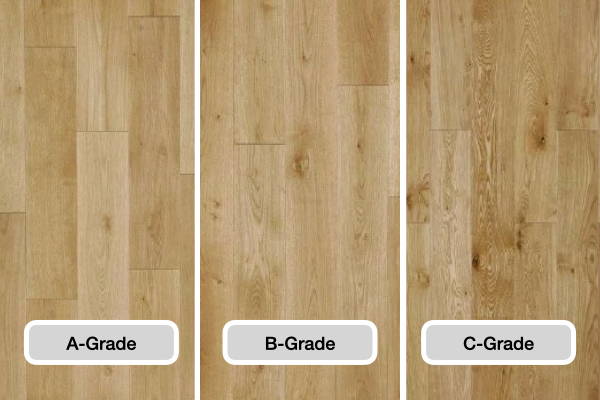 Because Grade-A teak has been allowed to mature, it has a beautiful golden brown color, uniform wood grain, and glossy surface. Cheaper teak tends to have more noticeable discoloration and inconsistency in the wood grain.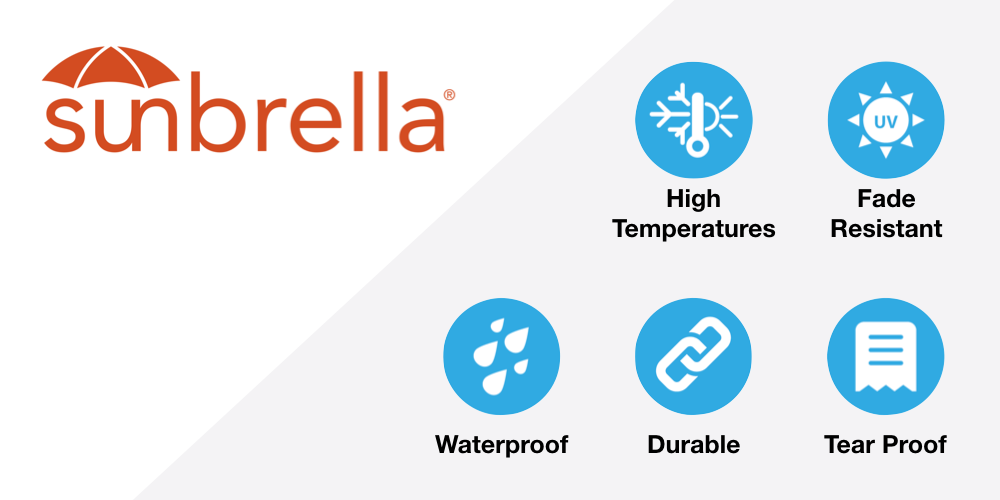 If you want your seat cushions to last, make sure they're made with Sunbrella fabric. They've been around since 1950 and are the gold standard for all-weather outdoor fabrics. Here's why.
Your outdoor furniture is going to see a lot of sun. Sunbrella's unique dying process ensures each individual strand is infused with color. This ensures your fabric holds its color through high temperatures, UV rays, and rain. Cheaper fabrics just dye the outer layer of the material and fade quicker.
Water, Stain, and Mold Resistant and Easy to Clean

Sunbrella's unique acrylic weave won't absorb water like other fabrics do. Moisture will bead up on the surface instead of seeping through. Not only does this prevent mold and mildew, it also means stains and spills are easy to wipe away.
Sunbrella is OEKO-TEX class II certified. This means Sunbrella fabrics contain no identified harmful materials for skin, the health, or the environment. You don't want to skimp and use a lesser fabric.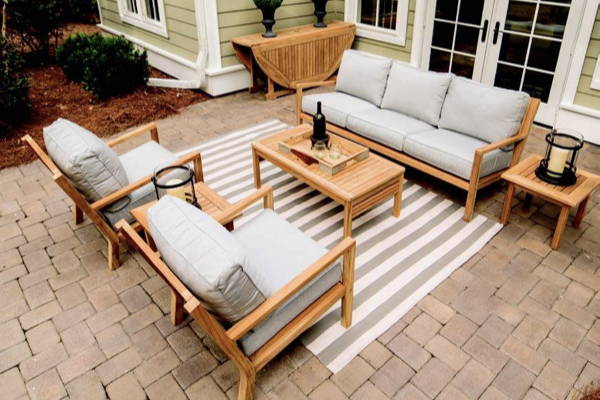 Sunbrella isn't the only all-weather material we use. We thoughtfully chose materials for the frame and hardware to ensure your patio set is up to facing the elements, no matter where you live.
Teak's natural oils and rubbers give it incredible resistance to UV rays, moisture, and insects. A high quality teak set can last for years with minimal maintenance. Over time, it will develop the classic grey patina of aged teak. Or if you prefer, you can treat it with teak sealer once a year to maintain the golden brown look.
We use stainless steel hardware to keep our teak sets together meaning you don't have to worry about rust or joint failure despite use all-year round.

Look for these two things if you want teak furniture that lasts for years.
Kiln-Dried Plantation Teak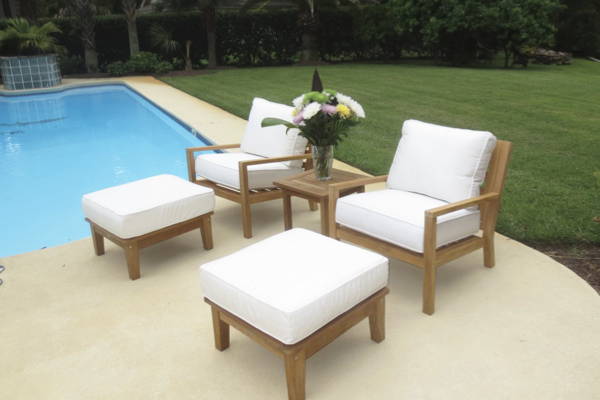 Plantation-grown teak means the teak has been allowed to naturally mature without harming forest ecosystems. The Kiln-drying process locks in the natural oils and rubbers into the teak wood to provide durable all-weather resistance for years.
Machine-Milled with Mortise and Tendon Joints

It takes incredible precision to cut the joints to fit together without leaving gaps. Machines-milled mortise and tendon joints ensures each piece locks together. This keeps each piece sturdy despite heavy use.

Explore Our Royal Teak Collection

We sell online, direct to you so you can get our Royal Teak Collection with all the highest quality teak features at a fair price. Don't settle for cheap, low-grade teak furniture or overpay for other brands.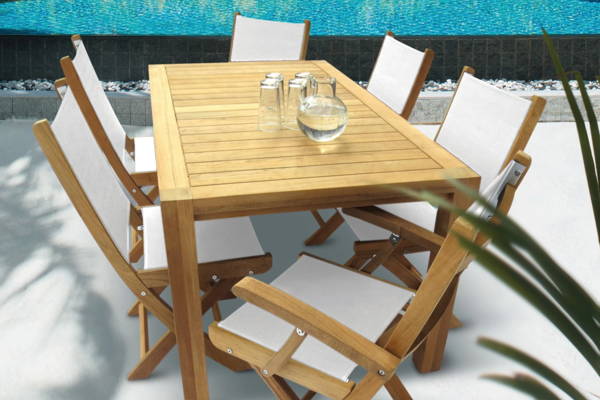 Explore the Royal Teak collection of high quality teak patio set and dining sets. We're offering free shipping if you order any of our sets today (a $300 value).