The Ultimate Guide to High Quality Wicker Patio Furniture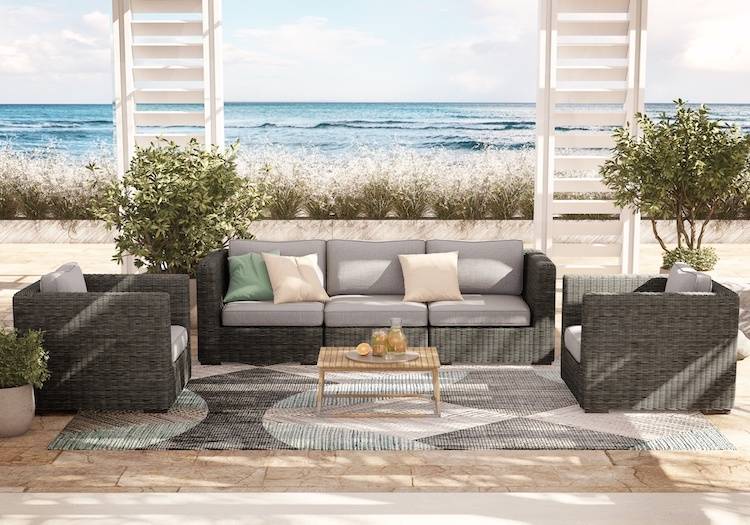 What to look for when shopping for wicker patio furniture
It can be a challenge to find an affordable, high quality, and comfortable patio furniture set. There are cheap sets for a few hundred dollars and overpriced sets for more than ten thousand dollars. How do you know what's worth the money? We break down everything you need to know about wicker patio furniture so you can make a smart choice at a smart price.

1. Look for High Quality Full-Round HDPE Resin Wicker
The highest quality wicker sets use full-round HDPE resin wicker. We use the same high end wicker that brands like Restoration Hardware and Pottery Barn use. By selling direct, we can offer high quality for less.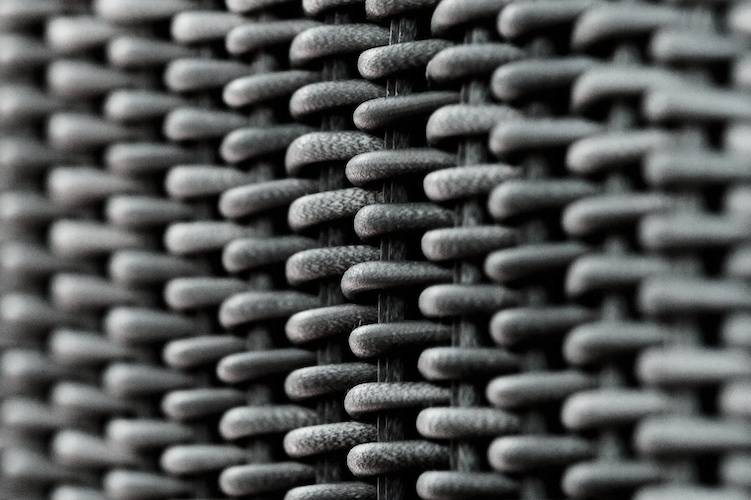 We use UV Treated High Density Polyethylene, or HDPE resin wicker. This is a specially formulated synthetic wicker that is non-porous, longer-lasting, weather-resistant, fade resistant, and more durable than cheaper wicker. We also use a portion of recycled materials to create sustainable patio furniture.
Cheap patio sets use PVC or Nylon wicker. These sets cost less, but these brittle plastics crack under the elements. (In fact, drinking straws are made out of PVC.) They're not designed to withstand all-weather conditions or repeated use.  
Wicker weaves comes in three styles: Full-Round, Half-Round, and Flat. Flat and Half-round wicker is cheaper and used in low quality sets. It's thinner, has less weight, and often runs into durability issues. It also falls visually flat as it can't create a true sense of depth and texture.
Higher quality sets use Full-Round wicker which is thicker and sturdier. We are one of the few brands that uses Full-Round wicker because it creates a luxurious sense of depth, texture, and dimension you just can't get with Flat wicker.
If a brand doesn't tell you they use Full-Round wicker, then they are probably using a cheaper Flat or Half-round wicker.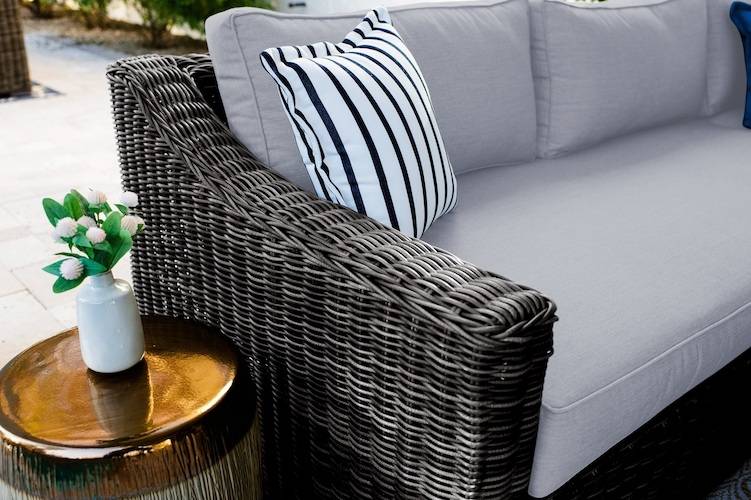 Believe it or not, our patio sets are actually made by hand by experienced artisans with over a decade of experience. Each patio set is given the care and attention it deserves. You'll know each set has been meticulously created and inspected for you.

Don't sacrifice comfort just because you're sitting outside. Here's how to make sure you look forward to falling into your outdoor couch every day.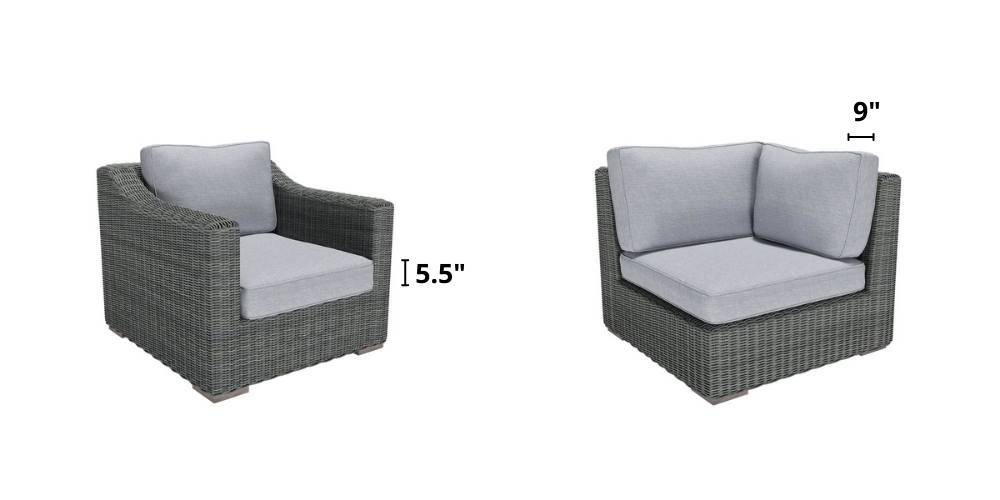 We use 5.5" ultra-thick high density foam cushions for optimal support. Our cushions are amazing to sit on and hold their shape for years to come.
We also have ultra-plush 9" thick back cushions so you get that amazing sinking in yet supported feeling thats just right.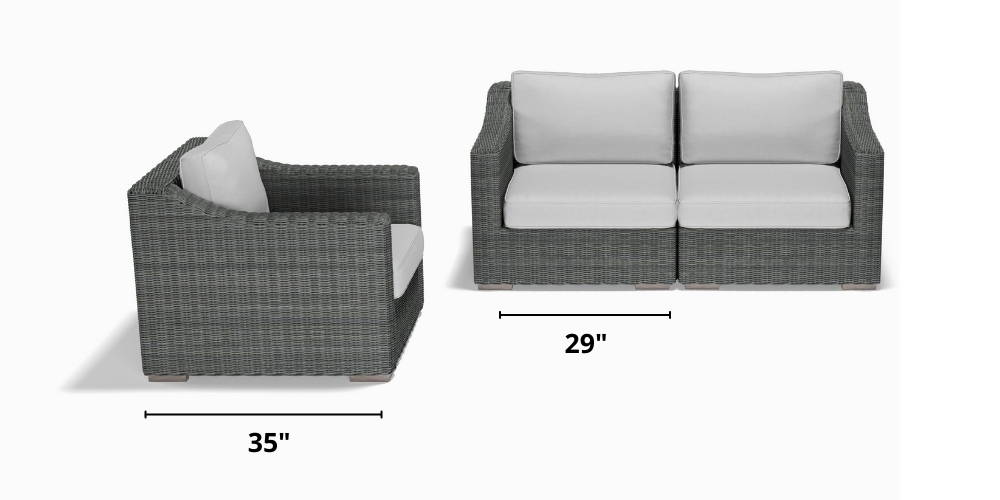 We design our chairs with industry-leading 35" of chair depth and 29" seat width. This ensure plenty of room to relax without feeling cramped. This is truly luxury patio seating.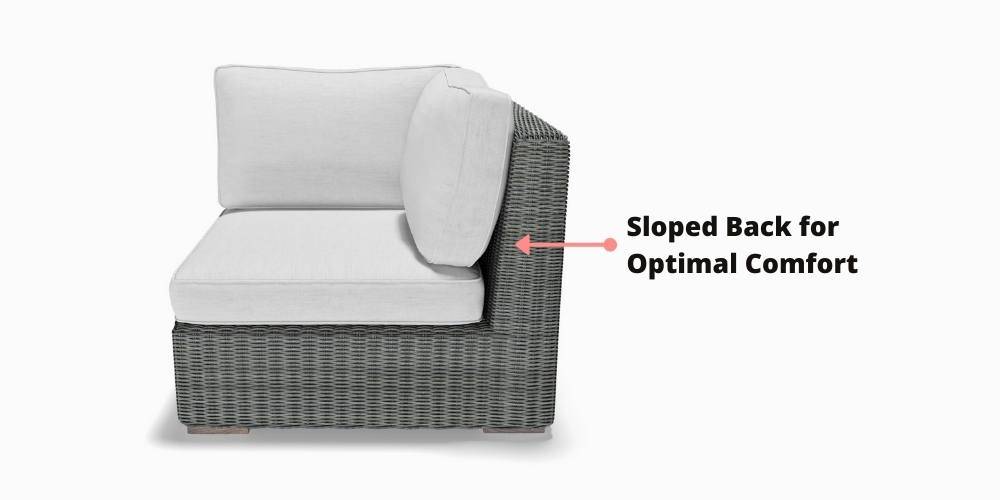 We added an incline to the back rests of each piece so that your back cushions can support you at a natural, relaxing position. This is a high quality feature that is possible thanks to our skilled weavers who create this by hand.
Avoid Cheap Patio Furniture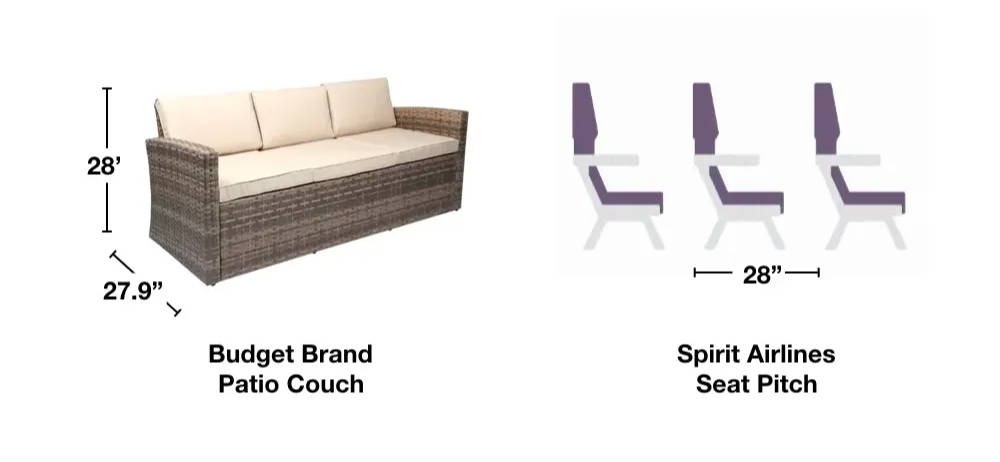 The top reason to avoid cheap patio furniture is comfort. Cheap patio furniture tends to be smaller to save on material costs. This results in cramped and uncomfortable seating. A cheaper patio set might have less than 30" of seat depth, or the equivalent to a budget airline's seat pitch. They also skimp on cushion thickness leaving you with thin, unsupportive seating. This is definitely not something you want to sit in for long periods of time.

3. Fade, Water, Mold, Mildew and Stain Resistant Outdoor Fabric

Sunbrella seat cushions are not only comfortable but made to last. Our solution dyed fabrics maintain their rich color and unwavering strength through normal wear, exposure to natural light, the elements, and cleaning.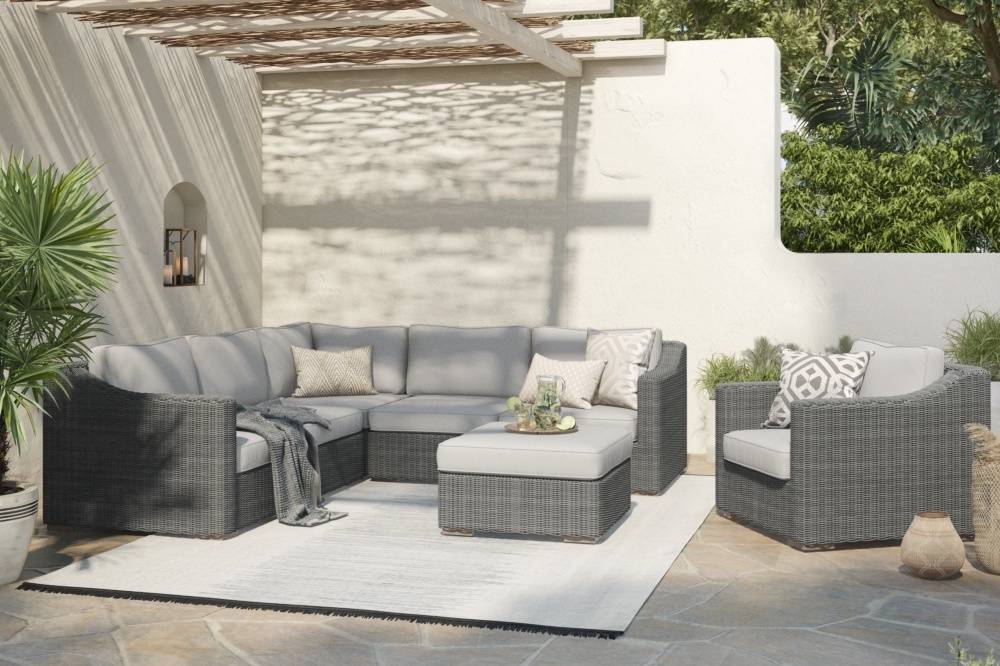 Your outdoor furniture is going to see a lot of sun. Sunbrella's unique dying process ensures that each individual fiber is saturated with color and UV-stabilized pigments before being spun into yarn. This means the color goes all way through the fibers making Sunbrella fade resistant, UV protective and durable to the core. This helps maintain color and quality through cleaning, wear and exposure to the elements.
Water, Stain, Mold And Resistant-Easy To Clean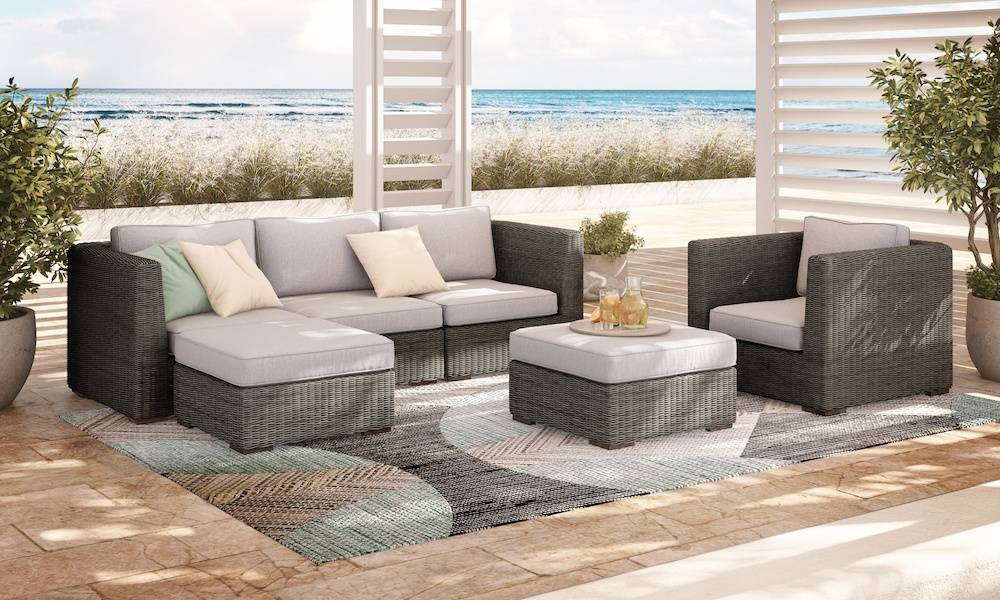 Sunbrella's fibers are mold and mildew resistant as well as stain and water resistant and designed to stand the test of time. Our fabrics are easy to clean while maintaining the strength and integrity of the fabric.

4. Limitless Possibilities to Fit Any Patio

Our unique design and manufacturing process allows us to offer an almost unlimited set of choices across sofas, sectionals, sets, and sloped or flat arms.
With more than 50 standard configurations and the ability to create your own custom set, if you can dream it, we have it.
5. Solid-Aluminum Construction with No Assembly Required

Nobody wants to assemble a patio furniture set that arrives in 15 boxes with a thick assembly manual and 50 screws. We make it easy by delivering sets that don't require any assembly.
Your set will come in just a few boxes. All you need to do is open the box, arrange each seat frame, and layer on the cushions. We even have clips to keep the seats in place.
Lightweight, Rust-Proof Aluminum Frame

We're able to do this by making each seat out of a single aluminum frame. Cheaper sets use smaller frames that you have to assemble. These sets are not sturdy and the gaps between the frames are visually distracting.
Aluminum is one of the best materials for a patio furniture frame because it is naturally rust and moisture resistant. We apply a unique coating finish to further protect our frame from the elements, including moisture and rust.
The frame is lightweight, too, making the patio furniture easy to maneuver and low maintenance.
The Highest Quality at the Perfect Price

You get what you pay for. If you buy a cheap patio set, it's not going to have the quality you're looking for. Don't be surprised if it lasts for less than a year.
However, that doesn't mean you should be forced to spend over $10,000 on an overpriced patio set. Big retailers often have expensive retail and warehouse space they need to pay for, so they pass that cost onto you.
We work directly with our factory to deliver you an unbelievably high quality set that can't be matched at our price points.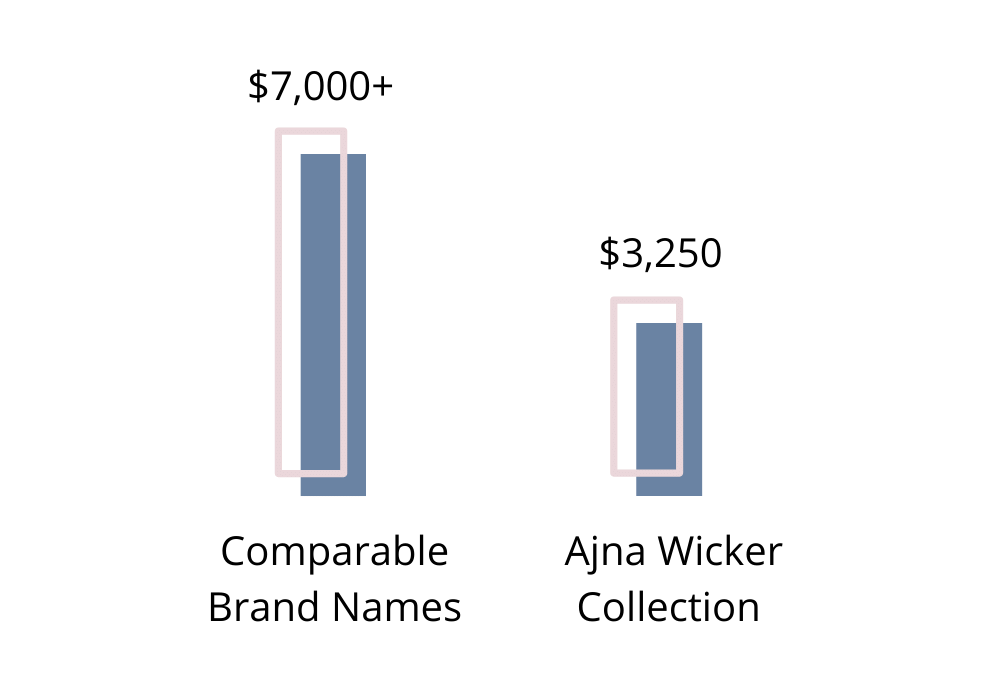 Simply put, you won't find a higher quality patio set at this price point. If you do, we'll tell you why it's not as good. Comparable sets at overpriced name brands easily run $7,000 a set. They even have you pay extra to upgrade the cushion fabric to be water and fade resistant.
Our sets are competitively priced and all inclusive, starting at $3,250 so you can get a high quality set without the retail markup.
Our Happy Customers Agree


"Beautiful furniture with quality comparable to Pottery Barn or Restoration Hardware, at significantly lower price. Love the fabric and the wicker is beautiful."

"I went to five outdoor furniture places and all of the comparable sets were so expensive. I happened upon Ajna online. Their set is Half the price. And it is all waterproof - great quality. Our set from Ajna arrived so quickly and is more beautiful than anything in the stores"

"We looked all over online and in patio furniture stores. Most other options were either super overpriced or incredibly overpriced, and not even comfortable!!!"

"Perfect in every way. I've previously purchased outdoor furniture from Restoration Hardware. My Ajna furniture is impressive - the construction, quality, fit/finish are all first rate. Cushions are thick, comfortable and the fabric and fabrication is beautifully executed. Couldn't be more pleased. And, of course, your outstanding customer service."

"Highly recommend for anything thinking a bout buying a set set from Ajna. We just got ours, and could not be happier, the quality of the wicker and cushions is excellent. The cushions are nice and thick! Customer service is awesome, delivered quickly and such better prices than what we have seen in retail stores. You won't be disappointed!"

Explore Our Exclusive Collection Today

We spent over 5 years designing the perfect wicker patio sets at the perfect price.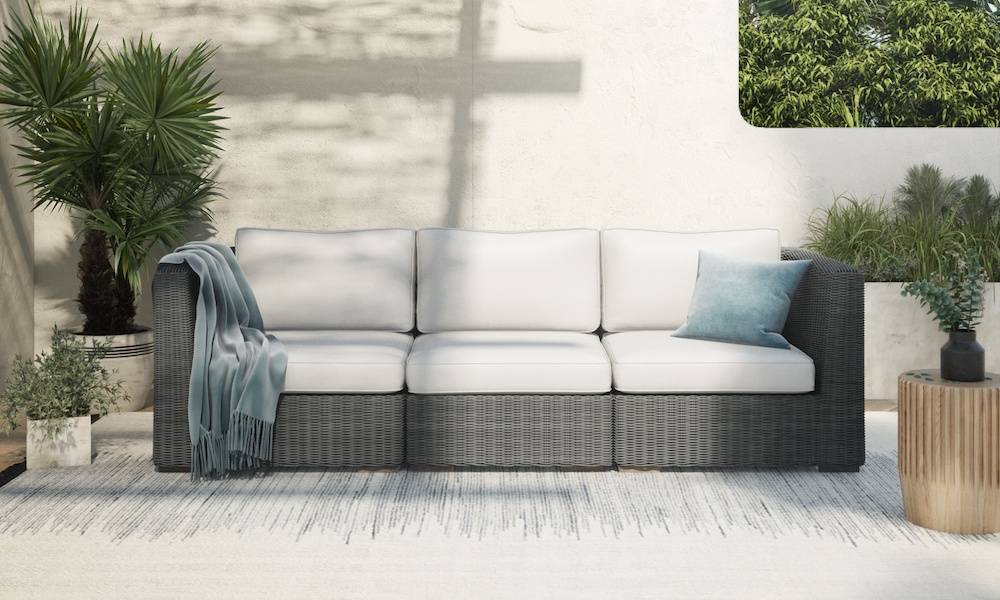 Our patio sets are so popular that our artisans are having trouble keeping up. Order soon to ensure you get your set this season!